Burnt Bronze AR 15 Pistol Build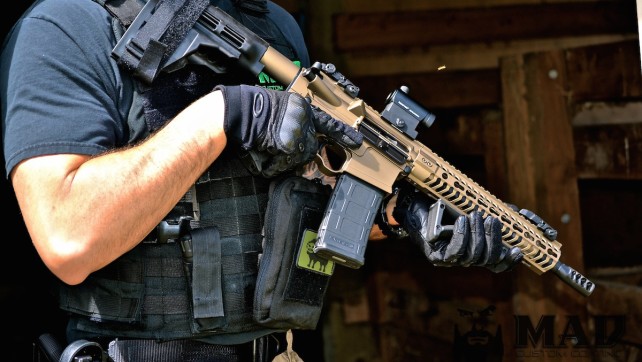 We completed building an AR 15 pistol a few weeks ago for a client of ours. He told us to stick to a particular budget and buy the best quality parts we could, for the money, so we went ahead and ordered the following parts (click on the part to link you to the site):
SAA upper receiver
– TR Enabling 80% lower receiver – the remaining 20% needs to be milled out by the owner of the firearm. MAD will NOT mill any 80% lowers.
– Odin Works 223 Wylde 10.5″ barrel
– Odin Works 9.5″ rail – only 8.3 oz!! It's crazy light!
– Nxed Gen Armory muzzle break
– Primary Arms Micro Dot optic with AR riser
– DPMS lower parts kit – Coated in Micro Slick
– MAD Custom Coating M16 bolt carrier group – Coated in Micro Slick
– Sig Tac  SB15 "Arm Brace"
– KAK Industries SB-15 buffer tube – This was created specially for the Sig Tac SB15 Arm Brace. It sets the SB15 away from the receiver by about 1.5 – 2 inches. This allows your face to not be squished against the charging handle… you know for that time when you need your rifle quick and don't have time to strap on the arm brace… haha.
– Magpul Angled Fore Grip (AFG) – because apparently putting a vertical grip on the rail makes it much more dangerous… and illegal by ATF standards.
We didn't go all out and buy the most expensive parts available. But we did spend money on the quality parts that matter most. Arguably two of the most important parts on an AR are the barrel and BCG. Which is why we went with an Odin Works barrel and one of our very own MAD M16 profile BCGs coated in Micro Slick.